21 Jul /

The Brill House in Soapbox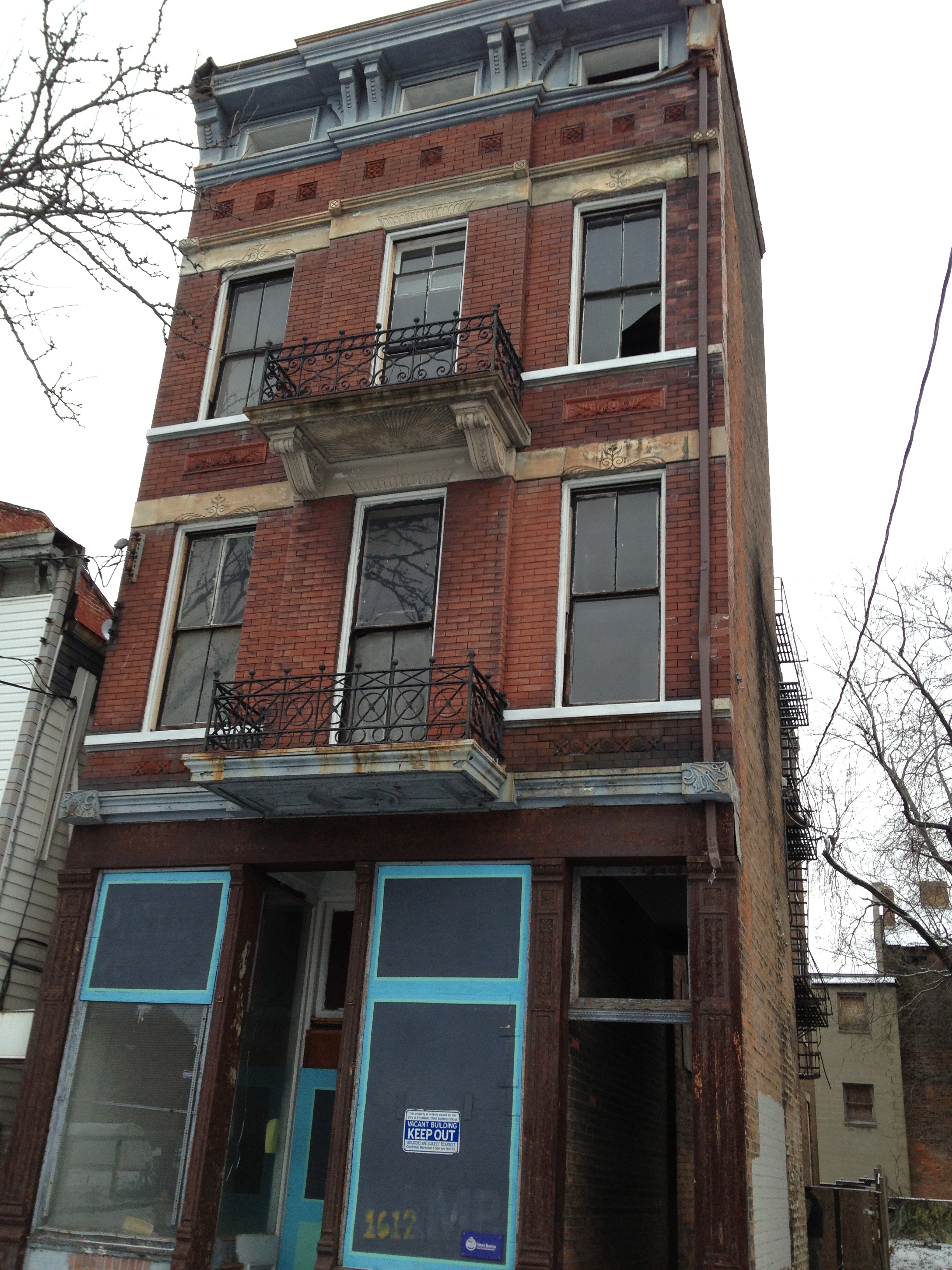 http://www.soapboxmedia.com/features/100813-OTR-ADOPT.aspx
OTR A.D.O.P.T. takes matchmaking approach to preserving properties
Getting It Together
When Danny Klingler coordinated the rescue of an old brewer's house from demolition in 2009, he saw it as just the beginning of a preservation mission in 
Over-the-Rhine
. Now, four years later, his nonprofit 
OTR A.D.O.P.T.
 is doing just that on a larger scale throughout Cincinnati's historic neighborhoods.
"Cincinnati has amazing architectural history. Someone needs to do something to make sure it's preserved," Klingler says.
Klingler earned a Master of City Planning from Massachusetts Institute of Technology. He wrote his thesis on historic preservation in Over-the-Rhine. The name he has chosen for his nonprofit says everything about how he sees the city's architecture. A.D.O.P.T. stands for Advancing Derelict and Obsolete Properties Through Transfer, but more than that, the word "adopt" itself is central to his mission.
As with other forms of adoption, Klingler vets potential developers to ensure that they're both technically capable and financially able to complete the project. The building must also be returned to productive use once completed—meaning no cookie cutter rehabs to flip for a big payday.
"What I don't like is when people come and want to knock out a brick storefront to put in a garage. That means you care more about parking than real investment in the building itself," Klinger says.
The reward for community-minded buyers is an adoption fee at a substantial discount from open market prices. Klinger wants to see that money go toward repair and preservation. Working primarily with passionate small developers and individuals also ensures a more organic revitalization, as each new owner overlays unique character to their building.
Klingler's first rescue is representative of how the process goes. He found the building at 1711 Lang St. slated for demolition, and instead of protesting or advocating politically, he went straight to the building's owner. In these cases, the building has usually been a burden on the owner for many years, with the city threatening fines for disrepair and a heap of unpaid taxes. At this point, with a little sweet talking, Klinger persuaded the owner to make the building a charitable donation.
"In fact, the owner got a huge monkey off his back as well as a tax credit," Klingler says. The tax write-off is nearly always preferable to paying for demolition.
Klingler matched the building at 1711 with Kristin and Chris Heckman, newlyweds interested in restoring the piece of history for their future home. Since its official inception in July 2010, OTR A.D.O.P.T. has preserved more than 20 buildings from demolition and found adoption for 14 of them.
The Slam Dunk
Since May 2013 alone, Klingler has matched six buildings with adopters. The most recent adoption was a 2,160-square-foot, two-story tenant house at 2321 W. McMicken Ave. Entrepreneur Abdi Cheik lives a few blocks north of the property, and had his realtor contact OTR A.D.O.P.T. the moment he saw the for-sale sign. He got the keys on September 13.
"We both have the same vision, not just on the philosophic side, but also the practical. There's a real transaction," Cheik says.  He now owns four properties on W. McMicken Ave, one of which is the Reliance Art Metal warehouse, which he plans to convert to a coffee shop and roaster. His new residential property is just a block away from the warehouse, making it a good base of operations.
Cheik moved to Over-the-Rhine six years ago, and his interest in restoring the neighborhood was a happy coincidence for his transaction with OTR A.D.O.P.T. Meeting the adoption criteria was no problem.
"Contributing to the community was something I already wanted to do," Cheik says. "Overall, I got a good deal for a house I'd been looking at for some time already."
"As a business owner, Abdi clearly had access to resources," Klingler says. "It was evident to me that he wouldn't have trouble taking it all the way."
Cheik owns two hookah lounges in Columbus, and opened the Gypsy Café on Calhoun Street in November 2006 in order to expand away from the smoking ban. Ohio passed its statewide ban a month later. By then, however, Cheik had seen something in Over-the-Rhine that excited him.
Cheik grew up in Diredawa, the second largest city in Ethiopia. "In Diredawa, all you see is Ethiopians. It's comfortable because they're your own people, but people always talk about the same things; there's no diversity of ideas. Here there are diverse socioeconomics. It's not just a bubble."
Unlike many OTR A.D.O.P.T. properties, Cheik's isn't just a shell. His building is structurally sound and complete. To make it habitable, he just needs to repair plumbing, re-attach electricity and do some cosmetic work. The windows and foundation are in good shape, which is music to the ears of any developer in Over-the-Rhine, he says.
The initial stages for Cheik involve carting off debris and taking out the carpet covering hardwood floors.
"We're trying to get it back to original condition. I don't want to mess around with the historical parts.  We'll keep the integrity of design and just enhance what's already here."
Cheik and a group of friends will do all the renovation work themselves. Among the hookah lounges and other Over-the-Rhine properties, they now have 15 years of experience in the remodeling business. Once they've done the plumbing, electrical work and "all the sweat," as he puts it, Cheik will move in and rent out his previous house.
"I want to keep prices that people can afford. Not everyone has to be making a lot of money to enjoy what's going on here," he says.
Cheik envisions opening the coffee shop and creating a social hub on W. McMicken Ave. to energize the area, but he also wants to keep it eclectic and organic. The big picture project is still several years from completion, but part of the deal with OTR A.D.O.P.T. is that Cheik must have his building finished and ready for use within two years. The idea is to spur renewal and discourage real estate speculation.
"It helps when people invest in properties for more than just resale. You're forced to fix them up then, to pick up the trash on the street in front," Cheik says. "That's the aim of all this; it's not just to bring in suburbia."
Cheik expects to be finished and moved in as early as Summer 2014.
The Longer Road
While Cheik enjoys the relatively light cosmetic work required for his building, other adoptions are not typically so simple. Most of OTR A.D.O.P.T.'s buildings are shell properties.
"A shell is a building that has four brick walls, and sometimes floors and stairs," Klingler says. Everything else needs to be put in—heat, water, electricity, lights, a roof, a kitchen, bathrooms, walls, floors and paint. "It's a project where you're almost starting from scratch."
In September 2011, Ollie Kroner of Porch Swing Properties adopted a 5,000-square-foot building at 1612 Elm St. Known as the Brill House, the property is just a block south of Findlay Market. It has seven apartments and a street-level storefront. It's Porch Swing Properties' biggest project to date, and also the first one that's both historic and ordered vacant by the city. After two years navigating the channels of red tape, Kroner's team is ready to begin work, and he is enthusiastic as ever.
"I was born in OTR, so I've always wanted to do a project here," Kroner says. He was born on Orchard Street, but grew up in Northside, which is where Porch Swing has most of its renovations. The company focuses on bringing dilapidated historic buildings back to life. When the Brill House came up for adoption, Kroner jumped at the opportunity to do a project in his old neighborhood.
"The craftsmanship and detailing are not something you see in the day-to-day," Kroner says. Ornate wrought-iron balconies climb the four-story façade and overlook the Findlay Market Farms garden. Ornamental banisters and molding track up the building's central stairwell, with portal windows at each landing that will glow once restored.
The Brill House dates to the 1840s. It was the home to three generations of Brills, whom census lists identify as hucksters. Kroner says he enjoys the history and character of the building, but that "historic overlay comes with its own set of challenges, and," he pauses, "opportunities."
To own a building ordered vacant by the City of Cincinnati requires a special license and a fee for every year the building stands empty. To get a green light for habitability, Kroner must carefully document every step of the repair and renovation process, which the city verifies with frequent inspections.
In addition to city vacancy regulations, Kroner faces Cincinnati Historic Conservation Board regulations regarding historical appropriateness for updates and changes. His biggest challenge is the more than 50 windows that were blown out by a heat burst when the adjacent building burned down. He would normally install vinyl Energy Star windows, but is required instead to use wooden double hung windows. This adds $20 to $30,000 to project costs, Kroner says.
"When the city demands historical accuracy, it adds to the cost. It's enjoyable but comes with a learning curve."
Fortunately, rehabilitating a historic building does indeed come with opportunities. In July, Kroner qualified for a historic tax cut, which will help him offset the additional costs. He's also working toward commercial tax abatement from the city, and has committed to keep the project within silver LEED (Leadership in Energy & Environmental Design) standards, which require attention to sustainability and efficiency in things like materials, water and appliances.
OTR A.D.O.P.T. relaxes the completion deadline in cases like these. The important thing is getting endangered buildings into the right hands.
"This is what Ollie does for a living," Klingler says. "He has the money, the knowledge and a good track record. Plus he 'gets it' from a historical perspective."
Kroner expects completion by July 2015, if not earlier. Getting the building through the city's regulations and ready for renovation has been a long road, fraught also with break-ins, squatters, graffiti and occasional garbage dumping. Overcoming these challenges and getting to put his touch on the neighborhood are their own rewards, he says. "The unique thing about A.D.O.P.T. is that it helps bring in smaller teams and individuals, keeping the revitalization process personal and organic."
The Long View
"Everyone from Dickens to the poet Longfellow has written about what a great city Cincinnati is," Klingler says.
His vision for OTR A.D.O.P.T. is that it returns and enhances the dynamism and sense of place that once made Cincinnati a major urban player. Klingler's passion for OTR revolves around its potential as a model community. He'd like to see it leverage historical bases like the pre-Prohibition breweries and the Underground Railroad in order to build the next generation of historic structures—new public works, art installations, fountains, museums, cobblestone and gaslights.
"But this is the first step," he says.  "Let's keep what we've got."